Beautiful Bauer Book: A Pictorial Study with Prices
Meet the brightly colored pottery that set the trend for casual mix-and-match dinnerware years before Fiesta! This pictorial overview of the pottery produced from the 1920s through the 1950s by the JA Bauer Pottery Company is illustrated with over 450 vibrant color photographs. Items ranging from brilliantly glazed dinnerwares and garden pots to massive oil jars and hand thrown vases are all included. A number of rare pieces are depicted as well. A brief history of the company, several original company brochures, examples of the manufacturer's marks, a bibliography, and an index round out the presentation. Prices are provided in the captions for the items displayed.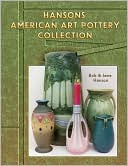 Hansons' American Art Pottery Collection: Identification and Values Book
Bob Hanson, co-author of three bestselling volumes of McCoy Pottery, has produced an all-new volume with his wife, Jane, this time on American art pottery. This new title contains over 550 color photographs with approximately 1100 pieces of American art pottery from the authors' personal collection as well as pieces from fellow collectors. There is a brief history on all of the 40+ American potteries listed, with current collector values provided for every piece shown. Many of the pieces have never before been referenced in books. There is a large section on the artistic work of Rick Wisecarver, an artist turned potter. Catalina Island, Bauer, Fulper, Hampshire, Marblehead, Nelson McCoy, Muncie, North Dakota School of Mines, Owens, Peters & Reed, Rookwood, Roseville, TECO, and Weller are some of the companies featured in this new reference book, sure to become another bestseller.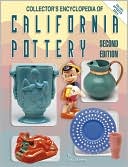 Collector's Encyclopedia of California Pottery Book
First released in 1991, this pottery book has been greatly expanded, with hundreds of new color photographs and new information about the beautiful work of the potters of California. Over 30 different artists and companies are represented - company histories, interesting background information, as well as marks and signatures complement the gorgeous photographs found in each section. All items featured are given collector values reflecting today's secondary market. Chipman's goal is to showcase the best the ceramic industry has to offer - the prominent and innovative studio-level producers as well as the major manufacturers, including Batchhelder, Bauer, Kay Finch, Sascha Brastoff, Metlox, Vernon, and many others. 2005 values.